Switzerland
9 months ago
Picasso's granddaughter will continue producing NFTs despites the family disagreement
Marina Picasso says her son's NFT collection has been endorsed by Claude Picasso, even after initial pushback from family members. A lawyer for the Picasso Administration told that only Claude could approve the NFT project as an official Pablo Picasso NFT project. Marina added that as Claude has now "endorsed" the NFT collection, and the family "will continue producing NFTs."
According to Artnet News, Picasso family members weren't happy to learn that 30-year-old Florian Picasso, a DJ and great-grandson of Pablo, was launching a collection of NFTs inspired by one of the famed artist's ceramic bowls. A lawyer for the Picasso Administration, which manages works held by three of the artist's children and two grandchildren, said in January that any so-called Picasso NFT release would be "counterfeit" because the administration's head, Claude Picasso, hadn't approved it.
Marina Picasso, granddaughter of famous painter and sculptor Pablo Picasso, issued a statement on YouTube in response to her and her adopted son Florian's Ethereum NFT collection after a family disagreement went public. In the video, she expressed support for NFT technology and shared that her uncle, Claude Picasso, now endorses the project. Going forward, Marina said that she and Florian will "continue to produce NFTs."
"I have a 30-year-old son who's passionate about NFTs. It appealed to me, so I looked into this subject, and I find that it's a modern technology that allows us to connect with art. It really appealed to me. And it's in this way that I decided with my son to create our first NFT collection"

Marina Picasso
Together, they produced a collection of more than 1,000 animated NFTs featuring a grinning, googly-eyed sun whose halo of light spins around in circles. According to Decrypt, their NFT collection, titled "Man and the Beat," (https://nft.manandthebeat.com/#/) has struggled to sell at its high mint price of 2 ETH each (roughly $5,800) since reports surfaced that Claude Picasso, head of the Picasso Administration, did not initially approve of the NFTs. Despite celebrities like singer John Legend promoting the project, few have actually sold, since the collection was launched almost three weeks ago.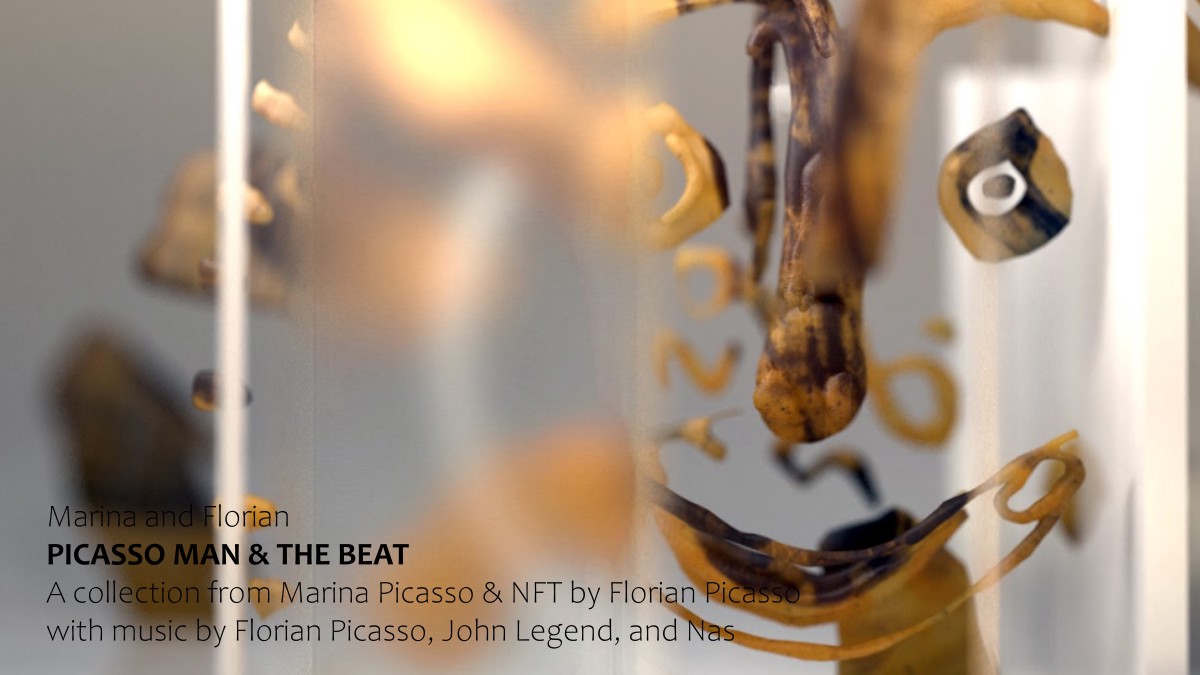 Decentralized marketplace Origin Protocol (https://www.originprotocol.com/) is still hosting the collection via a custom website. As of today, not much has changed since Decrypt first reported last week that only 10% of the collection had been sold.
"Unfortunately, our ideas weren't communicated as they should have been, and in relation to certain members of my family that already had a difference of opinion, there was really a misunderstanding that didn't do anyone any good. I have the support of my uncle, Claude Picasso… he's dedicated his life to protecting the legacy of my grandfather, his father"

Marina Picasso